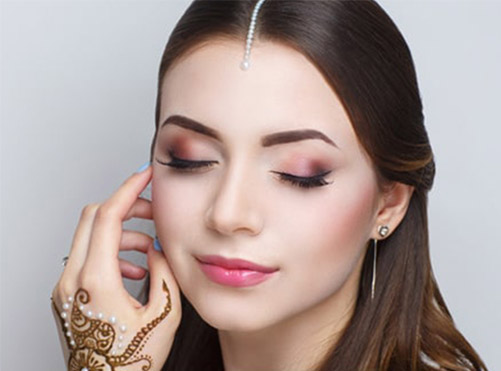 Planning your beauty regime for the big day
Every bride wants to look their most beautiful self at their wedding. Why would they not? After all, all eyes would be on them. The pictures clicked would spark memories of the special day for years to come.
However, brilliant makeup, a splendid hairstyle and a glamorous dress aren't enough. The preparation to look your best has to start way earlier. Here's what you should consider in your wedding beauty plan:
Laser hair removal: If you don't want the stress of waxing looming on you a day before your wedding, start laser hair removal treatment at least 6-months earlier for smooth and clear skin.
Hair and makeup style: Don't wait for the last moment to decide how you want to look on your big day. Take some time to experiment with various hair and makeup looks to determine which one is best suited for you.
Nails: Pick out your nail colour with your hair and make-up style to ensure they all fit seamlessly. Oil your cuticles up every night before bed for hydrated, strong, and flexible nails.
Skin: First and foremost, book an appointment with a skincare specialist! They can assess your skin and recommend the best strategy to get you the dewy, soft skin you want. Remember to exfoliate your whole body frequently with a gentle scrub. Reduce exfoliation as you get closer to d-day – you don't want your skin to look irritable. Instead, opt for a soothing facial.
Teeth: Your smile will be the centre of attention, and a pre-wedding teeth whitening treatment will make sure your smile doesn't dim one bit. Opt for Drinking wine and coffee through straws as it prevents discolouring. Schedule a teeth-cleaning appointment a few days before your wedding.
Fitness: While the urge to diet will be sky-high, don't go all-out a few days before the wedding, or you will look pale, pasty and weak. Talk to your nutritionist/dietician at least six months in advance and follow a well balanced healthy diet. Reduce alcohol and actively work out for a healthy glow.
On the big day: You have already taken care of everything in advance. All you have to do is wake up well-rested, fresh and stress-free. Keep hydrating throughout the day. Style your hair and makeup just the way you planned. Slip-on your dress and wear a dazzling smile as you say your vows.
If you're in Pune, look no further than the bridal packages at The Wedding Clinic to help you reach your wedding beauty regimen goals.
At The Wedding Clinic, we believe your skin is unique and deserves to be treated as such. Drop us a line or book a consult with our in-house dermatologist for an in-depth understanding of your skin and how it can be aesthetically enhanced.