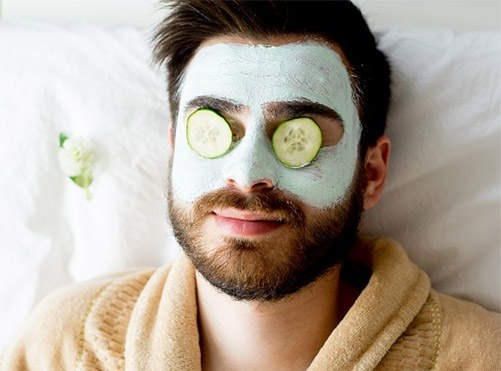 A Groom's Guide to Pre-wedding Skincare Essentials!
Hey groom-to-be, "Congratulations!" for stepping into the next big phase of your life. We know you are shouldering various responsibilities while ensuring smooth progress in various aspects of your Big Day. However, these responsibilities in no way can come in the way of you looking picture-perfect on your wedding day. So, we have put down an easy-to-follow skin routine that will help you prepare your skin for the big day.
For basic skin care follow this 6 step routine. Repeat steps 1-5, twice daily.
Cleansing
You need to wash your face multiple times a day but please do not use soap. Please. Choose a gentle/mild face wash or any other cleanser based on your skin's need.
Toning
Cleansing removes dirt, pollution, and all oils from your skin leaving it dry. Toning your face skin after cleansing wets your pores just enough, prepping them aptly to receive the moisturizing benefits of a face serum – the next step.
Face Serum
Serums are a crucial delivery system for the skin and contain various consecrated essential active ingredients useful in tackling several skin problems from dull skin to wrinkles.
Eye cream
Now generously apply eye cream using your ring finger. The fatigue and stress that your body is going through can be estimated by observing the under-eye area. So it is wise to invest in a good under-eye cream because those under-eye bags and dark circles are going to ruin your good looks.
Moisturising
Moisturisers not only hydrate and nourish your skin but protect it from pollution, dirt, bacteria, signs of ageing among other things. Depending upon your skin's needs choose a gel, cream or oil-based moisturiser.
Sun Screen
Yes, you are all macho and have tough skin and a great physique. But the sun doesn't discriminate based on gender. So be a good boy and apply a good broad-spectrum sunscreen that protects from UVA and UVB rays. Sunscreen helps in fighting wrinkles, dark spots and tan, caused by sun exposure.
Don't underestimate exfoliation
This is an important step too. A mild to heavy exfoliating face wash helps fight acne, dark spots, fine lines, and excess oil by effectively eliminating the top layer of skin cells. Don't exfoliate more than thrice a week, please. Do follow steps 2-6 after exfoliating.
If you are donning facial hair consider adding beard wash, beard oil and beard wax to your grooming routine.
Other skin treatments
There are various procedures that you may want to consider to improve your overall appearances
Periodic Facials
Fillers/Botox for fine lines and wrinkles
Manicures/Pedicures
Relaxing Spa (with complete body exfoliation)
De tanning treatment
Laser treatment for unwanted body hair
If you are a groom or a bride looking for pre-wedding treatments in Pune, The Wedding Clinic is just the place for you. Book your consultation today.
At the Wedding Clinic, we believe your skin is unique and deserves to be treated as such. Drop us a line or book a consultation with our in-house dermatologist for an in-depth understanding of your skin and how it can be aesthetically enhanced.